You are here
Back to top
Tibetan Peach Pie: A True Account of an Imaginative Life (Paperback)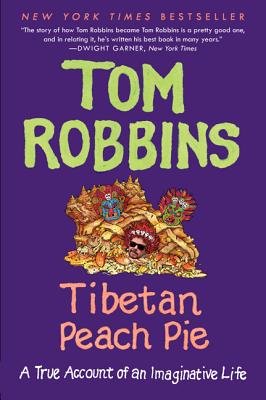 $16.99

Usually Ships in 1-5 Days
Description
---
Internationally bestselling novelist and American icon Tom Robbins' legendary memoir--wild tales of his life and times, both at home and around the globe.
Tom Robbins' warm, wise, and wonderfully weird novels—including Still Life With Woodpecker, Jitterbug Perfume, and Fierce Invalids Home From Hot Climates—provide an entryway into the frontier of his singular imagination. Madcap but sincere, pulsating with strong social and philosophical undercurrents, his irreverent classics have introduced countless readers to natural born hitchhiking cowgirls, born-again monkeys, a philosophizing can of beans, exiled royalty, and problematic redheads.
In Tibetan Peach Pie, Robbins turns that unparalleled literary sensibility inward, stitching together stories of his unconventional life, from his Appalachian childhood to his globetrotting adventures —told in his unique voice that combines the sweet and sly, the spiritual and earthy. The grandchild of Baptist preachers, Robbins would become over the course of half a century a poet-interruptus, an air force weatherman, a radio dj, an art-critic-turned-psychedelic-journeyman, a world-famous novelist, and a counter-culture hero, leading a life as unlikely, magical, and bizarre as those of his quixotic characters.
Robbins offers intimate snapshots of Appalachia during the Great Depression, the West Coast during the Sixties psychedelic revolution, international roving before homeland security monitored our travels, and New York publishing when it still relied on trees. Written with the big-hearted comedy and mesmerizing linguistic invention for which he is known, Tibetan Peach Pie is an invitation into the private world of a literary legend.
About the Author
---
Tom Robbins was born in North Carolina in 1932 and raised in Virginia. A graduate of Virginia Commonwealth University, he moved to Seattle to do graduate work at the University of Washington. His internationally bestselling works include Still Life With Woodpecker, Fierce Invalids Home From Hot Climates, Jitterbug Perfume, Skinny Legs and All, Half Asleep in Frog Pajamas, Villa Incognito, and B Is For Beer. Robbins lives with his wife, Alexa D'Avalon, and their dog, Blini Tomato Titanium, in Washington State.
Praise For…
---
"The story of how Tom Robbins became Tom Robbins is a pretty good one, and in relating it, he's written his best book in many years." — New York Times
"Tibetan Peach Pie is a late, welcome gift from a philosopher-novelist who continues to believe in the transformative qualities of 'novelty, beauty, mischief and mirth' - qualities apparent on every page of this lively, large-hearted book." — Washington Post
"Beautiful... Robbins has never met a pun, a blissfully crooked analogy, a magician's bit of verbal trickery that he didn't love… He knows words the way a pool hustler knows chalk." — NPR Books (Online Review)
"Robbins continues to embody Zen coolness and bohemian charm." — Booklist (starred review)
"Robbins carries us along a magical wonder tour in this high-flying, Zen koan-like, and cinematic tour of some of the episodes in his journey through space and time. " — Publishers Weekly (starred review)
"[Readers] will enjoy this peek into the intelligently goofy and always fertile mind of this inventive writer... a fitting cap to a sui generis career, equally satisfying in short installments or read straight through." — Kirkus Reviews
"Memoir or not, the form suits Robbins's digressive style, philosophical musings, and self-deprecating humor. Each piece stands on its own, but when read side by side they develop into a powerful argument about magic and the necessity of imaginative, interior worlds." — Library Journal (starred review)
"Perhaps the only aspect more impressive than Robbins's ability to imbue a lifetime of interesting anecdotes with an additional layer of introspection is his trademark style [...]earthy and conversational yet simultaneously intellectual. Fans and newcomers alike will guffaw and marvel at this most extraordinary life — Shelf Awareness
"[Tibetan Peach Pie] bursts with enough joie de vivre to bewitch even the most present-shock-imprisoned 28-year-old and to snag the rest of us with Robbins' far-out, feel-good sensibility and trademark helical, world-happy prose." — Elle
"Tibetan Peach Pie is a gift to his fans, the story of a man who had the sense to follow where his imagination led… How lucky for his readers that we got to tag along for the ride." — Seattle Times
"The author of such off-kilter bestsellers as Still Life with Woodpecker has written a rollicking reminiscence of his Appalachian upbringing, his spiral through the psychedelic '60s, and his unconventional path to literary stardom." — O magazine
"As in his many novels, [Tibetan Peach Pie] is buoyed by a palpable sense of the fun Robbins is having with language, in all of its rhythmic and poetic possibilities." — Biographile Biographile
"Wacky, wonder-filled… The fiction master of our times, Thomas Pynchon, once called Robbins a brain-dazzling 'world-class storyteller.' Now in his 80s, he still is, even in telling his own story." — USA Today (Online Review)
"Hallucinatory and conversational… intertwined with many fun and interesting tales... This is what happens when you let Tom run." — Slate
"If you've read any of his quirky best-sellers, such as Even Cowgirls Get the Blues, you'll scarf down this account of Robbins' Appalachian childhood, his life on the wild, wonderful West Coast in the 1960's and his world travels." — AARP Magazine
"He's never lost that voice, and it's the star of this memoir." — Tampa Bay Times
"Robbins is king of the sidewinder simile, the mixologist's metaphor. No other popular writer of our time depends as he does on pure verbal dazzle, or delivers as reliably on the deal." — Seattle Weekly
"Haphazardly ricocheting-but without exception entertaining." — Bookish.com
"Robbins writes beautifully… In works of pure imagination, like his novels, his style suits the material… A damned satisfying trip to the moon." — Santa Fe Pasa Tiempo
"Charmingly offbeat… unconventionally literary. [Robbins] excels at compositional oddity, brandishing the creative and the humorous… [Tibetan Peach Pie] is an amusement park of allusions and madcap stories." — Daily Californian
"For the lover of words and wordplay, humor, and creative and high flying imagination, there is no contemporary writer any better." — San Francisco Book Review
"A perfect bookend to Tom Robbins' oeuvre, an opportunity to finally catch a glimpse behind this magician's curtain." — About.com
"At his best, Robbins writes prose that flows like he's having a blast putting it all down as fast as he can think it." — Houston Chronicle
"Tibetan Peach Pie is vintage Robbins. It's pyrotechnic in language, labyrinthine in logic, daunting in voice, threaded with his wonderfully esoteric wit… Authentically charming… profound. " — Washington Independent Review of Books
"Readers will enjoy immersing themselves in [Robbins'] adventuresome life, from his remarkably unsupervised childhood to his free and easy adulthood. Tibetan Peach Pie… is a welcome antidote to our current era of helicopter parenting and disciplined conformity and rules, rules, rules." — Richmond Times-Dispatch
"Fans of Tom Robbins, the person, the novelist, the introspective jokester and the gifted storyteller, will love this book. It truly is a gem." — Portland Book Review