You are here
Back to top
Notes from a Dead House (Everyman's Library Classics Series) (Hardcover)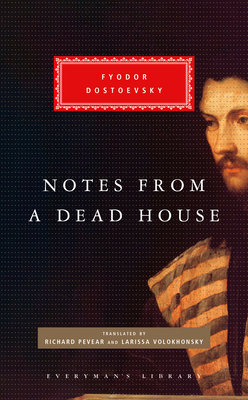 $24.00

Usually Ships in 1-5 Days
Description
---
A beautiful hardcover edition of the first great prison memoir, Fyodor Dostoevsky's fictionalized account of his life-changing penal servitude in Siberia. Translated by Richard Pevear and Larissa Volokhonsky, with an introduction by Richard Pevear.
 
Sentenced to death for advocating socialism in 1849, Dostoevsky served a commuted sentence of four years of hard labor. The account he wrote afterward, Notes from a Dead House (sometimes translated as The House of the Dead), is filled with vivid details of brutal punishments, shocking conditions, and the psychological effects of the loss of freedom and hope, but also of the feuds and betrayals, the moments of comedy, and the acts of kindness he observed. As a nobleman and a political prisoner, Dostoevsky was despised by most of his fellow convicts, and his first-person narrator—a nobleman who has killed his wife—experiences a similar struggle to adapt. He also undergoes a transformation over the course of his ordeal, as he discovers that even among the most debased criminals there are strong and beautiful souls. Notes from a Dead House reveals the prison as a tragedy both for the inmates and for Russia. It endures as a monumental meditation on freedom.
 
Everyman's Library pursues the highest production standards, printing on acid-free cream-colored paper, with full-cloth cases with two-color foil stamping, decorative endpapers, silk ribbon markers, European-style half-round spines, and a full-color illustrated jacket.
About the Author
---
Together, RICHARD PEVEAR and LARISSA VOLOKHONSKY have translated works by Tolstoy, Dostoevsky, Chekhov, Gogol, Bulgakov, and Pasternak. They were twice awarded the PEN/Book-of-the-Month Club Translation Prize (for their versions of Dostoevsky's The Brothers Karamazov and Tolstoy's Anna Karenina), and their translation of Dostoevsky's Demons was one of three nominees for the same prize. They are married and live in France.
Praise For…
---
"Excellent. . . . Dostoevsky's constant preoccupation is the meaning of human freedom and the prisoners' preservation of their dignity." —Harper's Magazine 

"A priceless addition to the literature of the penal experience. . . . A master of psychological portraiture. . . . A testament to the power of the human will, the way it can marshal patience and imagination and hope against the most nightmarish assaults on human dignity." —The New Criterion

"One of the most harrowingly universal books Dostoevsky ever wrote. . . . It's cause for no small celebration that the extraordinary series of translations by Pevear and Volokhonsky has now seized on Notes from The House of the Dead." —The Buffalo News

"The appearance of any new translation by Richard Pevear and Larissa Volokhonsky is always an event in a literary season. . . . [A] powerful new translation." —Open Letters Monthly

"One of literature's definitive prison memoirs. . . . A classic made current and a welcome addition to the library of Russian literature in translation." —Kirkus Reviews 

"Dostoevsky unflinchingly describes the dehumanization of prison, such as the way fetters were not even lifted from the dying, but also conveys how the flame of humanity survives even under such conditions, allowing cleverness and compassion to endure. This new translation is eminently readable." —Publishers Weekly