You are here
Back to top
Scalia Speaks: Reflections on Law, Faith, and Life Well Lived (Hardcover)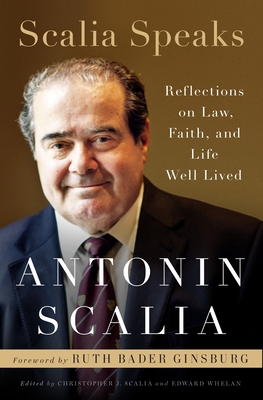 $30.00

Usually Ships in 1-5 Days
Description
---
This definitive collection of beloved Supreme Court Justice Antonin Scalia's finest speeches covers topics as varied as the law, faith, virtue, pastimes, and his heroes and friends. Featuring a foreword by longtime friend Justice Ruth Bader Ginsburg and an intimate introduction by his youngest son, this volume includes dozens of speeches, some deeply personal, that have never before been published. Christopher J. Scalia and the Justice's former law clerk Edward Whelan selected the speeches.

Americans have long been inspired by Justice Scalia's ideas, delighted by his wit, and instructed by his intelligence. He was a sought-after speaker at commencements, convocations, and events across the country. Scalia Speaks will give readers the opportunity to encounter the legendary man more fully, helping them better understand the jurisprudence that made him one of the most important justices in the Court's history and introducing them to his broader insights on faith and life.
About the Author
---
Christopher J. Scalia, the eighth of Justice Scalia's nine children and a former professor of English, works at a public relations firm near Washington, D.C. His book reviews and political commentary have appeared in The Wall Street Journal, The Washington Post, The Weekly Standard, and elsewhere. He lives in Virginia with his wife and three children.

Edward Whelan, president of the Ethics and Public Policy Center, is a former law clerk to Justice Scalia. He is a leading commentator on the Supreme Court and on issues of constitutional law. A father of four, he lives with his family in the D.C. area.
Praise For…
---
"Reading Scalia Speaks — the marvelous collection of his speeches, lovingly compiled by his son and a former law clerk — brought Nino back to life for me."
-Alan M. Dershowitz, The New York Times Book Review

"This marvelous book surely will be required reading for anyone seeking to understand the mind of this great jurist and conservative thinker. But I would go further and say that it should be required reading for  anyone who wishes to understand the mind of a great American, a figure so important to our history that his passing influenced the presidential election held months later. If "Scalia Speaks" can be said to have one fundamental flaw—one shared with the man's life—it is that it ends too soon."
-Wall Street Journal

"A treasure that captures Justice Antonin Scalia's brilliance, wit, faith, humility and wide range of knowledge...Scalia speaks in his own words in this magnificent volume that should be on the bookshelf of every educated American."
-Washington Post

"In decades of public speeches at home and abroad, Scalia educated, challenged, and entertained countless audiences. Now anyone who wants to benefit from the late justice's wit and wisdom can do so with Scalia Speaks.…[An] indispensable book." 
-Weekly Standard

"Scalia Speaks is engrossing and invaluable, a treasure for lawyers and non-lawyers alike, a milestone in the literature of this profoundly influential American and in the annals of the Supreme Court."
-James Rosen

"An almost intimate picture of one of the giants of our age…Scalia's mind sparkled like a gem, but perhaps, in our turbulent time, the most important takeaway from this collection is the lesson it teaches about civility."
-Mona Charen
 
"An extraordinary portrait of a great public figure and thinker. The book is an intellectual feast and at the same time great fun to read. It displays an exceptionally coherent worldview articulated with great force and wit. It's enormously enlightening.
-Yuval Levin