You are here
Back to top
The Joslin Diabetes Great Chefs Cook Healthy Cookbook (Paperback)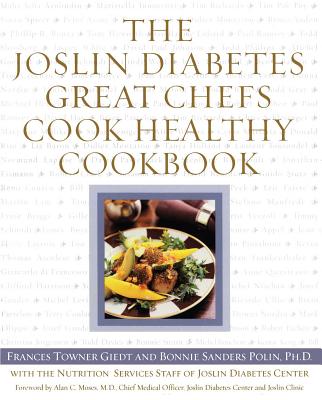 $19.99

Usually Ships in 1-5 Days
Description
---
Five-Star Food for People with Diabetes
Living with diabetes doesn't mean you can't enjoy five-star food. With The Joslin Diabetes Great Chefs Cook Healthy Cookbook, you can savor sophisticated, restaurant-quality cuisine at home while maintaining your blood glucose levels and healthy lifestyle. Award-winning authors Frances Towner Giedt and Bonnie Sanders Polin, Ph.D., and 114 superstar chefs from around the world, in conjunction with the world-famous Joslin Diabetes Center, have come together to produce a cookbook of extraordinary food for special occasions, specifically for people with diabetes. Here are more than 135 delicious recipes from acclaimed restaurants, each with a nutritional analysis that includes a list of carbohydrates, calories, and Joslin Choices provided by Joslin's Nutrition Services Staff.
This book will help you plan for an elegant dinner party or an intimate dinner for two, with sumptuous recipes that include David Paul Johnson's Spicy Lobster Gazpacho with Avocado Crème Fraîche from David Paul's Lahaina Grill, Lahaina, Maui, Hawaii; Asparagus and Gingered Grapefruit Salad from Ris Lacoste of 1789, Washington, D.C.; Broiled Halibut with Spring Mixed Beans and Spicy Thai Lemongrass Broth from Susanna Foo of Susanna Foo, in Philadelphia; Grilled Duck Breast with Sautéed Peaches and Tuscan Bread Salad from Don Pintabona of Tribeca Grill, New York City; Banana Pot Stickers with Mango Lime Sorbet and Roasted Pineapple from Michael Herschman of Mojo Café, in Cleveland, Ohio; and Light Apple and Lime Soufflé from Michel Guérard of Les Prés d'Eugénie, in Eugénie-les-Bains, France.
Eight pages of gorgeous color photographs will convince you to get into the kitchen and start cooking. Whether you're living with diabetes or just love fine restaurant food, The Joslin Diabetes Great Chefs Cook Healthy Cookbook will become a favorite in your culinary arsenal.
About the Author
---
Frances Towner Giedt is a coauthor of The Joslin Diabetes Gourmet Cookbook, winner of an IACP and James Beard Award; The Joslin Diabetes Quick and Easy Cookbook; The Joslin Diabetes Healthy Carbohydrate Cookbook; The Joslin Diabetes Great Chefs Cook Healthy Cookbook, Low-Carb Quick & Easy, and Low-Carb Slow & Easy. She is a food consultant and author of several other cookbooks. She lives near Dallas, Texas.

Bonnie Sanders Polin, Ph.D., a psychologist, is a Type 1 diabetic. After being diagnosed she successfully set about adapting recipes she and her family could enjoy for her nutritional needs —preserving the integrity and taste of all her favorite foods.