You are here
Back to top
109 East Palace: Robert Oppenheimer and the Secret City of Los Alamos (Paperback)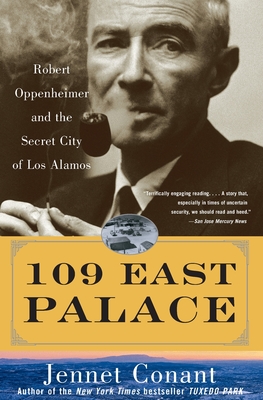 $20.00

Usually Ships in 1-5 Days
Description
---
From the bestselling author of Tuxedo Park, the story of the three-thousand people who lived together in near confinement for twenty-seven intense months under J. Robert Oppenheimer and the world's best scientists to produce the atomic bomb and win World War II.

In 1943, J. Robert Oppenheimer, the brilliant, charismatic head of the Manhattan Project, recruited scientists to live as virtual prisoners of the U.S. government at Los Alamos, a barren mesa thirty-five miles outside Santa Fe, New Mexico. Thousands of men, women, and children spent the war years sequestered in this top-secret military facility. They lied to friends and family about where they were going and what they were doing, and then disappeared into the desert. Through the eyes of a young Santa Fe widow who was one of Oppenheimer's first recruits, we see how, for all his flaws, he developed into an inspiring leader and motivated all those involved in the Los Alamos project to make a supreme effort and achieve the unthinkable.
About the Author
---
Jennet Conant is the author of Man of the Hour: James B. Conant, Warrior Scientist, and the New York Times bestsellers The Irregulars: Roald Dahl and the British Spy Ring in Wartime Washington and Tuxedo Park: A Wall Street Tycoon and the Secret Palace of Science That Changed the Course of World War II. She has written for Vanity Fair, Esquire, GQ, Newsweek, and The New York Times. She lives in New York City and Sag Harbor, New York.
Praise For…
---
"The Manhattan Project was a chapter of history rich in the drama of human strengths and frailties, as Jennet Conant chronicles in her illuminating 109 East Palace.... Yet, for all the doubts and hardships, the scientists and workers at Los Alamos were part of something extraordinary.... Thanks to Conant's vivid book, we understand why."
-- BusinessWeek

"A haunting, beautifully realized and highly entertaining story.... A stunning accomplishment."
-- Edmonton Journal

"Terrifically engaging reading.... A story that, especially in times of uncertain security, we should read and heed."
-- San Jose Mercury News

"A unique and interesting portrait of the development of the atomic bomb and the brilliant man who oversaw the process.... Conant gives the reader one story after another, revealing the humanity of these people within the framework of the project that ushered the world into the Atomic Age.... Highly readable."
-- San Antonio Express-News

"Bears the weight of inexorable drama.... Excels in showing how bedeviled the brilliant, oddly spineless but extraordinarily powerful Oppenheimer was."
-- St. Petersburg Times

"A spellbinding account of a venture that often teetered on the brink while the future of the world lay at stake.... Vividly told, the interplay of personalities that would ultimately transform the world."
-- Kirkus Reviews (starred)

"More than any other account of Los Alamos that I've read, Conant's narrative evokes the texture of life there.... A well-told narrative of daily life in a top-secret operation."
-- Newsday

"An engaging portrait of life on the remote mesa that served as backdrop for the world's most audacious scientific enterprise.... Conant packs her book with colorful, little-known details that bring the quotidian side of the bomb-building effort to life."
-- Baltimore Sun