You are here
Back to top
In Memory of Memory (Paperback)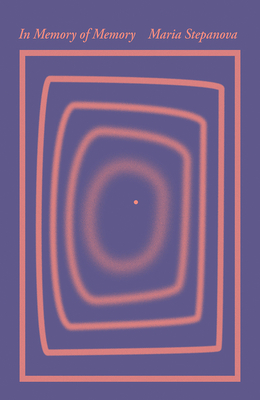 $19.95

Usually Ships in 1-5 Days
Description
---
An exploration of life at the margins of history from one of Russia's most exciting contemporary writers

Shortlisted for the 2021 International Booker Prize

Winner of the MLA Lois Roth Translation Award
With the death of her aunt, the narrator is left to sift through an apartment full of faded photographs, old postcards, letters, diaries, and heaps of souvenirs: a withered repository of a century of life in Russia. Carefully reassembled with calm, steady hands, these shards tell the story of how a seemingly ordinary Jewish family somehow managed to survive the myriad persecutions and repressions of the last century.
In dialogue with writers like Roland Barthes, W. G. Sebald, Susan Sontag, and Osip Mandelstam, In Memory of Memory is imbued with rare intellectual curiosity and a wonderfully soft-spoken, poetic voice. Dipping into various forms—essay, fiction, memoir, travelogue, and historical documents—Stepanova assembles a vast panorama of ideas and personalities and offers an entirely new and bold exploration of cultural and personal memory.

About the Author
---
Maria Stepanova, born in Moscow in 1972, is a poet, essayist, and journalist, and editor in chief of the online newspaper Colta. In 2018, she was awarded the Bolshaya Kniga Award for In Memory of Memory.

Sasha Dugdale is a British poet, playwright, and translator.
Praise For…
---
In Memory of Memory is a multi-faceted essay rooted in doubt on the nature of remembering.

— Frankfurter Allgemeine Zeitung

A brilliant evocation of the last years of the Soviet Union, extending deep into the past....A remarkable work of the imagination.
— Kirkus (starred review)

Stepanova's finely crafted debut follows a woman's lifelong efforts to better understand her ancestors, Russian Jews whose stories fascinated her as a child growing up in the Soviet Union...[an] admirable cross-genre project will intrigue fans of erudite autofiction.
— Publishers Weekly

A daring combination of family history and roving cultural analysis...a kaleidoscopic, time-shuffling look at one family of Russian Jews throughout a fiercely eventful century.
— John Williams - The New York Times

A book to plunge into. 'Everyone else's ancestors had taken part in history' writes Stepanova; building itself via accumulation, these chapters become an important testimony to the cultural and political lives of the people held beneath the surface of the tides of history.
— Andrew McMillan

A luminous, rigorous, and mesmerizing interrogation of the relationship between personal history, family history, and capital-H History. I couldn't put it down; it felt sort of like watching a hypnotic YouTube unboxing-video of the gift-and-burden that is the twentieth century. In Memory of Memory has that trick of feeling both completely original and already classic, and I confidently expect this translation to bring Maria Stepanova a rabid American fan base on the order of the one she already enjoys in Russia.

— Elif Batuman

Dazzling erudition and deep empathy come together in Maria Stepanova's profound engagement with the power and potential of memory, the mother of all muses. An exploration of the vast field between reminiscence and remembrance, In Memory of Memory is a poetic appraisal of the ways the stories of others are the fabric of our history.

— Esther Kinsky

There is simply no book in contemporary Russian literature like In Memory of Memory. A microcosm all its own, it is an inimitable journey through a family history which, as the reader quickly realizes, becomes a much larger quest than yet another captivating family narrative. Why? Because it asks us if history can be examined at all, yes, but does so with incredible lyricism and fearlessness. Because Stepanova teaches us to find beauty where no one else sees it. Because Stepanova teaches us to show tenderness towards the tiny, awkward, missed details of our beautiful private lives. Because she shows us that in the end our hidden strangeness is what makes us human. This, I think, is what makes her a truly major European writer. I am especially grateful to Sasha Dugdale for her precise and flawless translation which makes this book such a joy to read in English. This is a voice to live with.

— Ilya Kaminsky

Stepanova has given new life to the skaz technique of telling a story through the scrambled speech of an unreliable narrator, using manic wordplay and what one critic called 'a carnival of images.'
— Los Angeles Review of Books

Stepanova's fraught relationship with the tempting glut of the past takes this hybrid, unforgettable work far beyond the paradigm of the family memoir—just like memory itself, it exists in a state of limbo between the historical and the fantastical. In Memory of Memory is a stunning and ambitious reckoning with the fragility of memory, the Jewish imperative to remember, and the unbridgeable chasm separating us from our ancestors.

— Ali Hassani - BOMB

Russia's greatest living poet.... Stepanova lays bare the fallibility of memory, mocking, as she does in her poetry, the idea that anything certain can be built atop a vision of the past.
— Jennifer Wilson - Poetry Foundation

Oblivion is a kind of storage facility for exhausted histories. Inside its walls, Stepanova acts as collector and critic, and makes her temporary home.... As the title suggests, In Memory of Memory might be read as a eulogy for our obsession with the past, one of those rare works that narrates its own disillusionment with its subject. Stepanova embraces memory in order to eventually free herself from its suffocating embrace.

— Linda Kinstler - LARB

As it delves into the story of Stepanova's Russian-Jewish family, branching out into broader questions about the nature of memory, the book exhibits many of the qualities that have made her a beloved writer in her native country: exquisite imagery and metaphor, an affectionate sense of Russian literary tradition, and a gentle, melancholy approach to the region's violent history. Above all it asks, What merits remembrance, and what is better forgotten?
— Sophie Pinkham - Harper's

In Memory of Memory is a meditation on the nothing that remains after catastrophe, the residual oblivion.

— Edward Stephens - Rain Taxi

Aunt Galya is dead and has left a sea of bric-a-brac behind in her cave-like apartment. The objects are priceless or worthless, probably both: newspaper clippings, horoscopes, tchotchkes, postcards, photographs, diary entries…This heaping pile of life detritus, what it reveals and, maybe more crucially, what it obscures, is the point of departure for Maria Stepanova's breathtaking zigzag meditation on memory.
— Negar Azimi - Artforum

Grappling with the heaviness of details, and then holding them up to the light, Stepanova examines just how relentlessly the past shines through—how it haunts and follows us around, even when—especially when—we think we've closed the door on it.
— Snigdha Koirala - Lit Hub

Judith Schalansky's An Inventory of Losses and Maria Stepanova's In Memory of Memory are both trying to pin down echoes and build from dust.

— Audrey Wollen - Bookforum

More a treatise on the nature of memory than a novel, Stepanova's work recounts a woman's life as it is lived parallel to the tumultuous history of the Soviet Union. Inger Tudor's beautiful and compelling narration soon draws the listener in. Tudor's capable performance makes accessible even the most metaphysical descriptions of memory and human cognition—attentive listeners will find much to love here.
— AudioFile