You are here
Back to top
The Powers of the Word: Selected Essays and Notes 1927-1943 (Paperback)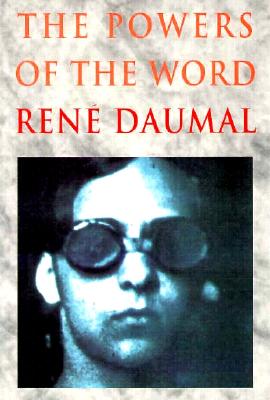 $12.95
Email or call for price
Description
---
Since his death in 1944, Rene Daumal has come to be recognized as one of the original minds of the twentieth century French letters. Poet, essayist, philosopher and translator, Sanscrit scholar and pupil of Gurdjieff, Daumal was a founder of the Grand Jeu group. He was iconoclastic and electic, able to embrace simultaneously Alfred Jarry's Pataphysics and Hindu teachings.
Daumal's two major works in English translation, Mount Analogue and A Night of Serious Drinking, have long been classics in this country; but until now, readers have not had acess to the full range of his thought. The Powers of the Word spans a lifetime of essays and notes-many here translated for the first time-from the earliest incitements to drug use and revolt; through Daumal's unique readings of literary works; to his more mature, but no less ardent, meditations.
There are considerable portions of Ren Daumal's thinking that leave one with the sensation of watching a man climb out of sight on a steep slope.... Climbing was his vocation and his avocation, and he simply kept on going when others turned back.... In all his writing, the world of concrete objects carries its full common sense of pleasure and hardship, of beauty and blight. At the same time his philosophical turn of mind involves him in a real struggle of ideas, one usually carried on by closed minds and obscured by fuzzy words.... (His is) a startlingly clear voice in the din. --Roger Shattuck
Rene Daumal (1908-1944) was a French spiritual writer and poet. He is well-known for his posthumously published novel Mount Analogue and for being an outspoken practitioner of pataphysics.