You are here
Back to top
Peter & Ernesto: Sloths in the Night (Hardcover)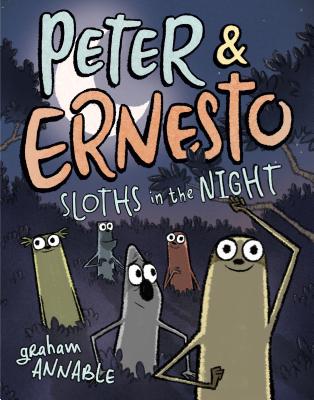 $18.99

Usually Ships in 1-5 Days
Description
---
From Box Trolls director Graham Annable comes Peter & Ernesto: Sloths in the Night, an immensely charming new addition to his brilliant graphic novel series about the endearing friendship between two sloths.

Peter and Ernesto love the jungle, but they know how dangerous it can be at night. From clumsy bats to crazed owls to rumors of a dragon, there are countless things that make the darkness perilous for sloths.

That's why, one day, when their friend Bernard goes missing just as the sun is setting, Peter and Ernesto quickly gather their tribe to form a search party. However, while these sloths have some sense of the dangers that they'll face while looking for Bernard, there are surprises lurking in the shadows that will surpass their wildest imaginings!
About the Author
---
Oscar-nominated director Graham Annable is a cartoonist and animator living just outside of Ottawa, Ontario, Canada, with his wife and two boys. Mr. Annable's unique voice has been consistently recognized in the mediums of film, games, and graphic novels throughout his career, garnering numerous awards and nominations along the way. When he's not taking his pugs on a walk in the woods he can usually be found doodling ideas for his latest project in the studio.
Praise For…
---
"Thick lines, white space framing panels, and a large font make this perfect for readers newer to graphic novels...[The sloths'] big expressions and body language perfectly complement the dialogue's sweet, silly humor."— Kirkus

Praise for Peter & Ernesto: A Tale of Two Sloths:

"The characters' different notions of adventure and bravery recall other odd couple friendships, such as Mo Willems's Elephant and Piggie and Holly Hobbie's Toot and Puddle."— School Library Journal, starred review

"Annable's soft, expressive illustrations juxtapose Ernesto's easy, optimistic joy with Peter's apprehensive courage as they explore the world for the first time. Many readers will look forward to the next adventure. A solid pick for readers who have graduated from Elephant and Piggie, Frog and Toad, and Narwhal and Jelly."— Kirkus Reviews

"Annable's gift for caricature and zippy dialogue shines through, as he celebrates his characters' contrasting temperaments without a hint of snark." — Publisher's Weekly

"Annable skillfully communicates a message that will be especially welcome to anxious kids―that sometimes small adventures take even more courage than big ones. Readers will be eager to reunite with Peter and Ernesto in the next installment of this new graphic novel series."–The Bulletin of the Center for Children's Books