You are here
Back to top
The Constitution of the United States of America and Other Founding Documents (Hardcover)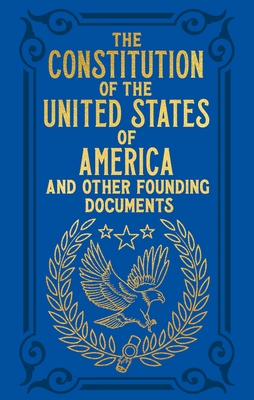 $12.99

Usually Ships in 1-5 Days
Description
---
This elegant hardback edition of the US Constitution and other founding documents is presented with Wibalin binding, gold embossing and gilded page edges.
Signed on September 17, 1787, the Constitution has provided the essential framework for the government of the United States ever since and an important guarantor of the rights and freedoms of its citizens. This enduring and powerful statement on liberty is an essential read for every American citizen-and anyone else seeking to understand the origins of this most powerful nation. Here you will find the complete text of the Constitution and all the amendments, as well as a collection of several of the most important political documents from American history. Contains:
- The Constitution of the United States of America
- The Amendments
- The Articles of Association
- Thoughts on Government
- The Declaration of Independence
- The Virginia Plan
- The Northwest Ordinance
- The Articles of Confederation
- President George Washington's First Inaugural Address
- President George Washington's Farewell Address
ABOUT THE SERIES:
Arcturus Ornate Classics are beautifully bound editions of iconic literary works across history. These compact, foil-embossed hardbacks are printed using deluxe ivory paper and make the perfect gift.
About the Author
---
The Founding Fathers included George Washington, John Adams, Alexander Hamilton, John Jay, Benjamin Franklin, Thomas Jefferson and James Madison. Together they played a major role in the creation of the American state in its modern form, through the drafting of the constitution and the creation of several important political documents. These were some of the most influential people in American history. Michael D. Hattem is the Associate Director of the Yale-New Haven Teachers Institute and he has previously served as Visiting Assistant Professor of History at Knox College and as a postdoctoral fellow at the New York Historical Society. His research focuses on the history of the American Revolution, and he is the author of Past and Prologue: Politics and Memory in the American Revolution.