You are here
Back to top
Deep South Dispatch: Memoir of a Civil Rights Journalist (Willie Morris Books in Memoir and Biography) (Paperback)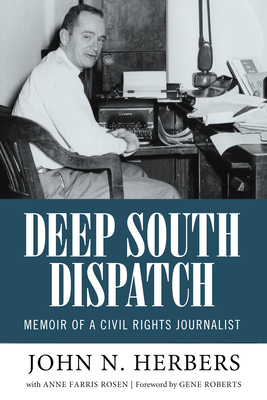 $25.00

Usually Ships in 1-5 Days
Description
---
Former New York Times correspondent John N. Herbers (1923-2017), who covered the civil rights movement for more than a decade, has produced Deep South Dispatch: Memoir of a Civil Rights Journalist, a compelling story of national and historical significance. Born in the South during a time of entrenched racial segregation, Herbers witnessed a succession of landmark civil rights uprisings that rocked the country, the world, and his own conscience. Herbers's retrospective is a timely and critical illumination on America's current racial dilemmas and ongoing quest for justice.
Herbers's reporting began in 1951, when he covered the brutal execution of Willie McGee, a black man convicted for the rape of a white housewife, and the 1955 trial for the murder of Emmett Till, a black teenager killed for allegedly whistling at a white woman. With immediacy and first-hand detail, Herbers describes the assassination of John F. Kennedy; the death of four black girls in the Birmingham, Alabama, church bombing; extensive travels and interviews with Martin Luther King Jr.; Ku Klux Klan cross-burning rallies and private meetings; the Freedom Summer murders in Philadelphia, Mississippi; and marches and riots in St. Augustine, Florida, and Selma, Alabama, that led to passage of national civil rights legislation.
This account is also a personal journey as Herbers witnessed the movement with the conflicted eyes of a man dedicated to his southern heritage but who also rejected the prescribed laws and mores of a prejudiced society. His story provides a complex understanding of how the southern status quo, in which the white establishment benefited at the expense of African Americans, was transformed by a national outcry for justice.
About the Author
---
John N. Herbers (1923-2017) worked for more than a decade at United Press International and was a national reporter for the New York Times for twenty-five years covering civil rights, national politics, the White House, Congress, urban affairs, Watergate, and the administrations of six presidents. Author of four books, two on civil rights and No Thank You, Mr. President and The New Heartland, he received numerous awards, including the John Chancellor Award for Excellence in Journalism. Anne Farris Rosen is the daughter of John Herbers. An award-winning freelance journalist and adjunct professor at the University of Maryland's Philip Merrill College of Journalism, she has worked for the New York Times, the Washington Post, and the Pew Research Center.