You are here
Back to top
Mind-Blowing Magic Tricks for Everyone: 50 Step-by-Step Card, Coin, and Mentalism Tricks That Anyone Can Do (Hardcover)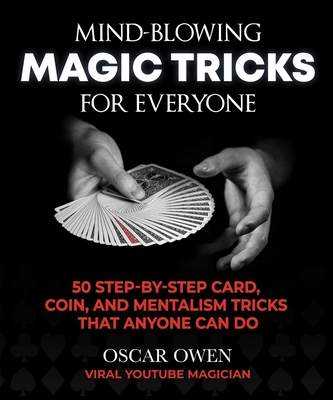 $19.99

Usually Ships in 1-5 Days
Description
---
"The ultimate guide to mastering the art of magic." —Business Insider"A must-have for any aspiring magician." —Mashable

Learn to perform 50 unbelievable magic tricks that will impress and astonish any audience! 

Features QR codes with links to trick videos for easy learning and visual aid! 
This delightful book reveals some of magic's best-kept secrets, showing you step-by-step exactly how the tricks are done from multiple angles. Learn easy-yet-mystifying card tricks, awe-inspiring coin tricks, mentalism tricks for reading someone's mind, deceptive bets, and amazing visual tricks that you can do with everyday objects, including how to:
Make a pen disappear
Levitate a dollar
Send a cup through a table
Tear a napkin and restore it to its original state
Put a need through a balloon without popping it
Crack an apple open with your bare hands
And more!
In addition to these jaw-dropping tricks, this book provides readers with:
QR Codes with trick videos for visual aid
Practice and performance tips
Jokes to use when performing
Additional resources
And more!
Ultimately, by the end of this book not only will you know fifty mind-blowing magic tricks, but you will also know exactly how to perform them confidently. The book is the perfect gift for aspiring magicians or anyone who wants to impress their family and friends!  
About the Author
---
Oscar Owen was born and raised in London, and has been performing magic professionally for over seven years. Combining incredible card, coin, and mind tricks, he has performed to some of the most famous celebrities in the world at private parties and red carpet events. He has also spent the last several years teaching thousands of magicians around the world the art of magic, amassing over 60 million views on his YouTube tutorials and over 600,000 subscribers. He specializes in close-up magic with cards, coins, and everyday objects.
Praise For…
---
"The ultimate guide to mastering the art of magic." —Business Insider

"A must-have for any aspiring magician." —Mashable

"This innovative manual is designed to bring magic within easy reach of everyone, even complete novices, with absolutely no special equipment needed: just coins, cards, and everyday objects. . . . In line with his mission to bring magic up to date, each one of the 50 tricks outlined in the book come with its own QR code, taking readers straight to a video performance to show the effect in all its glory."
—Entrepreneur

"When writing the book, Owen was keen to bring a digital aspect to it, and so each trick includes a scannable QR code that takes the reader to a performance of the trick. As the only magic book on the market right now with this feature, this is yet another way Oscar Owen is changing the game when it comes to learning magic." —LA Weekly

"Some readers have described it as a 'modern day classic', because it brings magic into the 21st century. . . . Its position as the #1 magic book on Amazon, alongside its publication in over 150 bookshops around the world, are testament to the quality and opportunity that this book has to offer." —New York Weekly

"Clear, concise and informative. This is a great magic book for anyone wanting to learn easy yet mind-blowing magic tricks. Highly recommended!"—Max Rendall, Magic Circle magician

"I wish I had this book when I first got started in magic. The images are really clear and QR codes make learning the effects so much easier." —Tom Bolton, Magic Circle magician

"The perfect book for anyone looking to get into magic." —Alisdair Gurling, Magic Circle magician