You are here
Back to top
Called to Serve: The Inspiring, Untold Stories of America's First Responders (Hardcover)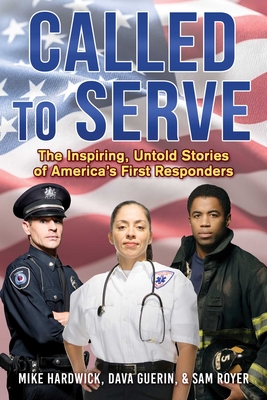 $26.99

Usually Ships in 1-5 Days
Description
---
Join brave American men and women first responders in sixteen inspiring tales of heroism. 

There is no question that it has been a rough few years for America and around the world. But along with news of the COVID-19 pandemic, new variants, wildfires, etc., there also emerged stories of heroism, courage, and what it truly means to be an American.

Called to Serve: The Inspiring, Untold Stories of America's First Responders tells sixteen stories of America's unsung heroes. These brave police officers, firefighters, and emergency medical professionals risk their lives every day, not knowing if it will be their last. Readers will get an inside look into their lives on and off the job, often revealing the challenges and triumphs of keeping us healthy and safe.

The book takes the reader on a very personal journey of what it is like to handle life and death situations and the toll it takes on first responders. From policing drug infested neighborhoods, pulling firefighters' bodies from the ruble at Ground Zero and letting families cry on your shoulder after their loved one was murdered—to being an Elvis impersonator to raise money for fallen firefighters—these remarkable individuals are America's finest. Called to Serve will give every American a deep appreciation of what first responders' lives are really like, and their unwavering dedication to serve and protect every American.
About the Author
---
Mike Hardwick is the founder, chairman, and CEO of Churchill Mortgage Corporation. He is a seasoned veteran in the mortgage and banking industries for the past forty years. Hardwick oversees a team of more than one thousand teammates, dedicated to serving others and aiding homebuyers in their journey to debt-free home ownership. Prior to Churchill Mortgage, Hardwick started a condominium conversion company which grew to one of the largest in the nation. He then became the one of the principal founders of Franklin National Bank in Franklin, Tennessee. He has a BA degree in Theology and Music from Gateway College, and a BA degree in business administration and finance from Belmont University.

Dava Guerin is an author or co-author of seven books and has been a marketing communications consultant and owner of a public relations firm for twenty-five years. She was also the communications director for the US Association of Former Members of Congress, profile editor of Bucks Living Magazine and has published numerous op-eds in national publications. She supports the Barbara Bush Foundation for Family Literacy and the Gary Sinise Foundation. She has a BA Degree in English Literature from Goddard College and graduates Summa Cum Laude with a master's degree in organizational behavior from Temple University.

Sam Royer believes in helping American Heroes achieve the American Dream—buying their own home. As National Director of Heroes First Home Loans, Royer helps provide affordable mortgage financing for active and retired military members, police, firefighters, healthcare workers, educators, and other civil servants. His experience in the US Marine Corps and ability to forge relationships with frontline workers have allowed Royer to stake out a unique position in the industry while fueling his passion to give back to those who take care of us. He has been a consistent top performer in the mortgage business and has garnered numerous awards for his work, including from the Daytona Beach Police Department, Volusia County Sheriff's Office, and Flagler County Sheriff's Office. A US Marine (Ret.) he is currently the national director of Heroes First Loans Division of Churchill Mortgage Corporation. He is active in raising fund and awareness of Police, Fire and EMS professionals in Florida as well advocates on their behalf. He is a dedicated volunteer, helping provide food and other needed services to first responders during local emergencies.
Praise For…
---
"In Called to Serve: The Inspiring and Untold Stories of America's First Responders, readers will get to know some of America's finest. Emergency medical technicians and paramedics reveal behind-the-scenes accounts of saving lives and saving themselves as they are dispatched in their ambulances. Police officers, a sheriff, and constable share their heartfelt stories of not only solving crimes and arresting bad guys but highlighting what good police work is all about. Finally, firefighters, many of whom have had to deal with serious injuries as well as post-traumatic stress, give readers a window into their devotion to helping others and changing lives in the process. I know you will be moved and motivated by the stories in this extraordinary book by my very good friend Mike Hardwick and his co-authors Dava Guerin and Sam Royer."
—JOHN RICH, country music singer-songwriter, record producer, and activist 

"Called to Serve: The Inspiring, Untold Stories of America's First Responders written by my good friend, Dava Guerin, and authors Mike Hardwick and Sam Royer, is a must-read for every American. In this important book, you will be moved by the deeply personal stories about first responders such as John (Woody) Woodall, as well as those who risk their lives for our health and safety and live by the oath they take to 'serve and protect.' When I was diagnosed with breast cancer, our family had to adjust. We were the recipients of a million acts of kindness. My daughters were in elementary school but that experience of seeing their mom bald and going through chemotherapy helped them connect to other families who had been diagnosed with cancer. Many of their friends over the years had parents affected by this awful disease. This experience helped our family build a degree of resilience that comes from learning early on that life can throw you curve balls and that none of us can get through those tough times without our friends, family, and neighbors who step in to help. A sense of gratitude will always be a part of our family's idea of service given how our lives were upended at that time. I think service needs to be something that you teach your children early. Service starts within the family. For us, we are grateful for the amazing first responders and veterans and cancer warriors whom we have met over the years. Their extraordinary strength has driven us to work hard every day."
—JENNIFER GRIFFIN, Fox News National Security correspondent 

"Christians are admonished to give honor to whom honor is due. This includes the brave men and women who have dedicated themselves to protecting and serving the needs of people in perilous conditions. Called to Serve introduces us to a small number of heroes engaged in what is increasingly a thankless service fraught with risks for those who have chosen the path less traveled. We respect and honor our first responders for the high cost of their service to humanity.  We thank the authors for blessing us with this book."
—DR. CAROL M. SWAIN, distinguished senior fellow for Constitutional Studies, Texas Public Policy Foundation

"There are no better authors to bring us the stories of America's first responders in Called to Serve than Dava Guerin, Mike Hardwick, and Sam Royer, because they—like them—have public service in their DNA. What unites them with the everyday heroes we meet in the pages of this wonderful book, is a sense of optimism and positivity that can overcome even the biggest of obstacles. Especially in today's challenging times of wars abroad, a global pandemic, and hyper-partisanship at home, we need the kind of book that shows us that America still is a very special place, with communities throughout the country enriched by men and women living the dignity of public service on a daily basis. I hope every American will read this important and inspirational book."
—PETE WEICHLEIN, CEO, US Association of Former Members of Congress.

"Fifteen stories from across the country recounting the bravery, self-sacrifice, and public service performed the unsung heroes among us—our first responders. These are people running toward danger when there is trouble. These are the people who seek no glory, who 'are just doing my job,' and who you hope you never meet but know you will when they are needed. These are real stories of real Americans just doing their job and I am so proud that we get to share their stories."
—DAVID S. FERRIERO, archivist of the United States 

"While most flee the sound of danger, there are those who run to the roar. They are the best among us. With undeniable qualities not often seen since the time of our great-grandparents, first responders exist as living remnants of the Greatest Generation. Unasked are questions like how or why or when or where … a simple YES is their only response when Called to Serve."  
—ANDY ANDREWS, New York Times bestselling author of The Traveler's Gift and The Noticer; founder of WisdomHarbour.com

"As someone who has spent a career in public service—from being a member of Congress, secretary of Agriculture and an advocate for many issues including eradicating hunger, restoring bipartisanship in Congress and others—I know the value of service. The dedication to making the world a better, healthier, and safer place for each and every American. When I had the pleasure of reading Called to Serve: The Inspiring, Untold Stories of America's First Responders, co-authored by my good friend, Dava Guerin, and her colleagues, Mike Hardwick and Sam Royer, I was moved by the heroes profiled in the book. From police officers who risk their lives during routine traffic stops or domestic disturbances, EMS professionals who are first on the scene during car accidents, and a myriad of 911 calls—to firefighters who have the emotionally taxing job of not only putting out fires, but trying to save lives in the process—Called to Serve showcases their tremendous heroism. Readers will take a journey with these inspiring first responders and will learn what motivated them to serve, and reveal behind-the-scenes stories of their lives in professions that inherently have danger at their core. They are America's unsung heroes. I highly recommend every American read this wonderful and enlightening book."
—DAN GLICKMAN,  former cabinet secretary of Agriculture

"What is it that makes some people want to dedicate their lives to serving others and making their communities better and safer places for all? And what keeps them on the job, day after day, year after year, despite enormous stress, great personal risks, and sometimes violence directed at themselves and others with whom they serve? The answers to these and so many other questions about those who put their lives on the line for the greater good can be found in Called to Serve: The Inspiring, Untold Stories of America's First Responders. Authors Mike Hardwick, Dava Guerin, and and Sam Royer take deep dives into the personal and professional lives of sixteen first responders—police officers, firefighters, EMTs. Readers will learn who inspired these heroes to serve, how they train for these grueling professions, and what kind of daily challenges they face as they encounter the very best of people—and sometimes the worst. This book is a reminder of how lucky we all are to have such self-sacrificing public servants in every corner of our nation. As the authors state, 'They make our world safer, healthier, and secure.'"
—KEVIN FERRIS, co-author of Vets and Pets: Wounded Warriors and the Animals That Help Them Heal and Unbreakable Bonds: The Mighty Moms and Wounded Warriors of Walter Reed

"Called to Serve is a wonderful peek inside the very heart and soul of our country's first responders. This wonderful book by Mike Hardwick, Dava Guerin, and Sam Royer should be required reading for every American who has or will need to call 911 one day. In other words, all of us. We need to learn more about the men and women who will show up at our door when we need help the most." 
—JEAN BECKER, author and former chief of staff of President George H. W. Bush

"What authors Mike Hardwick, Dava Guerin, and Sam Royer have done by writing Called to Serve: The Inspiring, Untold Stories of America's First Responders is tremendous. It will not only be appreciated by those who have served, but most importantly, those who benefit from their service as well. The stories in the book are personal, touching, and uplifting. As a fire commissioner I know first-hand the sacrifices these brave Americans who risk their lives every day make and their dedication to service. Called to Serve will give readers an inside look into the life and work of these brave first responders. Thank you to the authors for writing this important book."
—TOM MCQUEEN, chaplain, fire commissioner, and author