You are here
Back to top
Carry On: Reflections for a New Generation (Hardcover)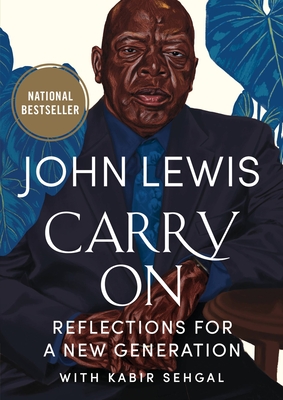 $22.00

Usually Ships in 1-5 Days
Description
---
*National Bestseller*

A brilliant and empowering collection of final reflections and words of wisdom from venerable civil rights champion, the late Congressman John Lewis at the end of his remarkable life.

Congressman John Lewis was a paragon of the Civil Rights Movement and political leadership for decades. A hero we won't soon forget, Lewis was a beacon of hope and a model of humility whose invocation to "good trouble" continues to inspire millions across our nation. In his last months on earth, even while battling cancer, he dedicated time to share his memories, beliefs, and advice—exclusively immortalized in these pages—as a message to the generations to come.

Organized by topic ranging from justice, courage, faith, mentorship, and forgiveness to the protests and the pandemic, and many more besides, Carry On collects the late Congressman's thoughts for readers to draw on whenever they are in need of guidance. John Lewis had great confidence in our future, even as he died in the midst of one of our country's most challenging years to date. With this book, he performs that crucial passing of the baton, empowering us to live up to the legacy he has left us with his perseverance, dedication, profound insight, and unwavering ability to see the good in life.
About the Author
---
Congressman John Lewis (1940-2020) was a leader in the American Civil Rights Movement. He was chairman of the Student Nonviolent Coordinating Committee (SNCC) and played a key role in the struggle to end segregation. Despite more than 40 arrests, physical attacks, and serious injuries, John Lewis remained a devoted advocate of the philosophy of nonviolence. He was the author of Walking With the Wind: A Memoir of a Movement, which was an autobiography of his activism, and was the recipient of numerous awards from national and international institutions including the Lincoln Medal, the John F. Kennedy "Profile in Courage" Lifetime Achievement Award (the only of its kind ever awarded), and the NAACP Spingarn Medal, among many others.
Praise For…
---
"Lewis makes the struggle for freedom plain and clear. From spirituality to politics to fear, John Lewis left the next generation with pockets of wisdom and encouraged us to 
Carry On
 struggling for justice with this small guide."—
Ibram X. Kendi, National Book Award-winning author of Stamped from the Beginning and How to Be an Antiracist
"Small, powerful and deeply observed...Perhaps the most remarkable part of
Carry On
is the way Lewis deftly converges the emotional with the intellectual, the personal with the political, freedom dreams with pragmatic calls for major policy innovation...As he did for his entire life, Lewis, through his words in this volume after his death, offers us sustenance, faith and hope for the battles that lie ahead."—
Washington Post
"Lewis (1940-2020) lays bare the vision and stratagems that sustained him through his lifelong, often brutal struggle for Black liberty...The author's courage and conviction are crystal clear, and it's also evident that he never feared death because he knew that his life had purpose. A bright, morally unwavering worldview from an exemplary human being."
—
Kirkus Review (starred review)
"Late civil rights leader and Georgia congressman Lewis (
Across That Bridge
) offers advice for young activists in this wise and moving account written during the last months of his life...The book's conversational tone and brisk history lessons make it accessible to readers of all ages. The result is a winning introduction to the man and his philosophies of life."—
Publishers Weekly
"This lovely book offers Lewis' meditations on everything from love to public service and affirms that he indeed represented the best of our nation...
Carry On
is a bittersweet book, coming so soon on the heels of Lewis' death, but a beautiful reminder of finding hope and joy in the simplest things."—
BookPage