You are here
Back to top
The Instant Pot Toddler Food Cookbook: Wholesome Recipes That Cook Up Fast - in Any Brand of Electric Pressure Cooker (Paperback)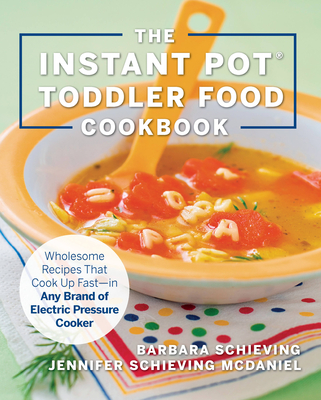 $16.99

Usually Ships in 1-5 Days
Description
---
Fresh and flavorful, safe and natural homemade foods for your toddler—cooked up quickly and conveniently in your Instant Pot or other electric pressure cooker!

Parents of toddlers everywhere want to ensure that the food they feed their children is all-natural and free of additives, and that is why they prefer to make it fresh themselves rather than buying processed foods. They also seek variety, because in recent years pediatricians and dietitians have been recommending that a toddler's diet feature a wide variety of ingredients, well beyond what you can buy in the "kid-friendly" aisle at the supermarket. And, nothing to sneeze at, they do it to save money—sometimes lots of money.

How do they find the time? It isn't always easy. Enter the wildly popular Instant Pot, along with other brands of electric pressure cooker, the perfect solution for time-crunched moms and dads. Pressure cooking is skyrocketing in popularity in large part because of its speed. You can cook up a batch of toddler cereals, spoon foods, or finger foods in a matter of minutes. Pressure cooking is the ideal method for making baby and toddler foods.
 
No less an expert than Barbara Schieving, the world's most widely read blogger on pressure cooking (her blog is called Pressure Cooking Today), author of the best-selling The Electric Pressure Cooker Cookbook, and a mom and recent grandmother herself, delivers here 100 tasty and good-looking recipes that will make you feel good about how you are feeding your kids—and will make them smile with delight at mealtime.

Here are cereals of all kinds and finger foods and spoon foods for all tastes, no matter how picky. With take-it-to-the-bank guidance on how to get the most from your cooker, plus loads of ideas on how to make and store big batches that will freeze for later use, this is a trustworthy kitchen companion parents will turn to again and again.
 
About the Author
---
Barbara Schieving's distinctive recipes and conversational style have earned her a dedicated readership around the globe. She is the creator of two popular recipe blogs: PressureCookingToday.com, where she shares family-friendly recipes for the electric pressure cooker/Instant Pot, and BarbaraBakes.com, where she shares her passion for baking. Her sites receive over 1.5 million page views each month. She is the author of the best-selling Electric Pressure Cooker Cookbook; Instantly Sweet; and the ebook, Simply Sweet Dream Puffs. Barbara's delicious recipes have been featured on iVillage, Betty Crocker, Shape, BlogHer, Babble, The Deseret News, and the Salt Lake Tribune. She lives in Herriman, Utah.
Jennifer Schieving McDaniel, Barbara Schieving's daughter, is a busy mother of three young children She uses her pressure cooker every day, often several times a day, to prepare baby food and nutritious family meals. Jennifer is the managing editor for PressureCookingToday.com.