You are here
Back to top
Clamour of Crows (Hardcover)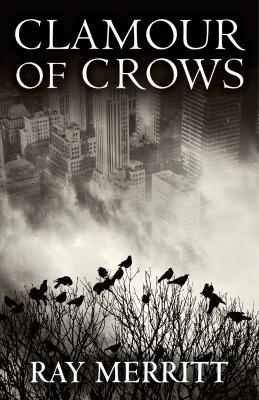 $28.00
Email or call for price
Description
---
Clamour of Crows is a brilliantly crafted modern morality play that charts the life and curious death of the legendary entrepreneur Ben Baum, replete with mayhem, mystery and, perhaps, murder. The novel's reluctant protagonist, Jonathan Tucker, finds himself drawn into a maze of deception, death and betrayal. Having lost the only things that matter, he is induced by his mentor to reengage with his former Wall Street law firm.

Tuck, as he is called, has to develop skills he never possessed, just to stay even with an unknown adversary in the world of Big Law, bigger business and international chicanery. Ingeniously told, this saga blends elements of classic literature with nonstop action across two continents, taking you to the edge of your emotions and reeling you back, without ever losing its sense of humor and style. Peppering his story with allusions to the world's most adored children's classics, the author explores the height of greatness and the depth of evil. In Clamour of Crows, Ray Merritt has created a witch's cauldron of intrigue, betrayal and unnecessary deaths, as he explores the dark side of human nature and the fundamental essence of family and forgiveness.
About the Author
---
Ray Merritt has enjoyed a successful writing career for over thirty years. His A Thousand Hounds (Taschen) was selected Best Book of the Year, 2000, by New York Magazine. The New York Times called it a goody pack. Entertainment Today awarded it most creative book of the season and Animal Fair dubbed it a masterpiece. Full of Grace (Damiani) was named PDN Magazine's Best Book of the Year in 2007. Oprah Magazine called it "dazzlingly elegant, elegiac and exhilarating." Kirkus dubbed it "gripping" and Publishers Weekly "captivating." Ray, his wife, Carol, and their shelter dogs, Piper and Jake, live in Sag Harbor and New York City.
Praise For…
---
"A tightly plotted debut mystery that mixes foul play, wordplay, and humor. The jokes start right away. Jonathan Tucker wakes up with "her" in his bed, but "she" is his faithful dog, Nip. Together, they are Nip and Tuck. He's a widower who in his grief walked away from his former Manhattan law firm, Winston Barr & Trombley. Now senior partner Evan Trombley wants him back because Ben Baum is dead of an apparent heart attack. Baum had headed Ozone Industries, the law firm's biggest client, and he left behind a strange precatory letter containing Tolkien-style runes and a prediction of his "murder most foul" committed by an unspecified person close to him. Baum's letter leaves behind a set of puzzles, all relating to his favorite books. He loved classics such as The Hobbit, The Wizard of Oz, and Alice's Adventures in Wonderland, and that contributes to the novel's light tone....The author's fun shows through with Tuck's constant indulgence inventing new collective nouns: "a joint of osteopaths, a rash of dermatologists, a stream of urologists, a balance of accountants." Many of the characters' names come from children's literature: Dorothy, Charlotte, and Baum, to name a few. Often funny, always light, this one will appeal to mystery buffs who don't require sex and gore and to those harboring fond memories of reading J.R.R. Tolkien, L. Frank Baum, and Lewis Carroll." --Kirkus Reviews

"Merritt makes his fiction debut with a low-key legal thriller full of wordplay and literary references...Readers should be prepared for several ostensible endings."--Publishers Weekly

"A sparkling blend of wit, puzzles, and suspense. The author's distinct voice is engaging, his characters sharply delineated, and his plot a twisting journey through legal and financial chicanery to a deadly conclusion. Numerous puns based on medieval venery, along with a glimpse into how the super wealthy live, add to the fun."--Library Journal

"Forget Voldemort, Satan, Dr. No, or Iago. Fictional villains these days slither out of Wall Street. Hedge-fund honchos without conscience, these evil avatars manipulate Dark Money...because they can. Although Ray Merritt says that his debut novel Clamour of Crows is fiction, and that the book's greedy corporate lawyers and shady CEOs do not represent the associates and clients he knew at his former law firm, he surely knows that his mystery novel about Big Law reflects real-life bad guys. As revelations about money laundering, contested wills and all manner of financial crimes and misdemeanors continue to make the news, Clamour of Crows could not be a more timely tale. And stand by for an unexpected, clever ending." --NPR

"Author Ray Merritt gives his narrator a quirky, humorous voice, even when deep in self-recriminations. Tuck has a fascinating absorption with collective nouns, so perhaps he'll collect himself and his clues over time. Meanwhile his honest separation from the world of Big Law makes him simultaneously vulnerable and powerful. Dialogue is convincingly brief in the personal, and beautifully filled with a lawyer's (and writer's) love of language in the business world. The boardrooms of corporate law come to life just as vividly as countryside of raven and crow. And wonderful literary allusions pepper the page, born of an old man's obsessions with hobbits, Alice, and Oz. As backstory blends into front, Tuck will either heal or fail, and Nip might save the day. Clamour of Crows is the sort of mystery that draws you in with so many clamoring threads, you have to finish reading to find your way out. Then birds will fly, and a truly surprising ending will satisfy." --Sheila's Reviews