You are here
Back to top
The Resilience Dividend: Being Strong in a World Where Things Go Wrong (Hardcover)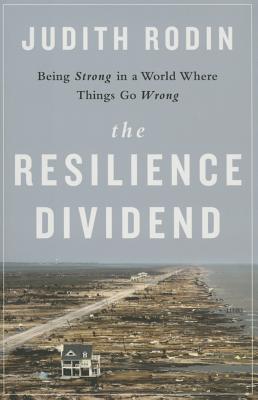 $30.00

Usually Ships in 1-5 Days
Description
---
Building resilience -- the ability to bounce back more quickly and effectively -- is an urgent social and economic issue. Our interconnected world is susceptible to sudden and dramatic shocks and stresses: a cyber-attack, a new strain of virus, a structural failure, a violent storm, a civil disturbance, an economic blow.

Through an astonishing range of stories, Judith Rodin shows how people, organizations, businesses, communities, and cities have developed resilience in the face of otherwise catastrophic challenges:

Medellin, Colombia, was once the drug and murder capital of South America. Now it's host to international conferences and an emerging vacation destination.
Tulsa, Oklahoma, cracked the code of rapid urban development in a floodplain.

Airbnb, Toyota, Ikea, Coca-Cola, and other companies have realized the value of reducing vulnerabilities and potential threats to customers, employees, and their bottom line.

In the Mau Forest of Kenya, bottom-up solutions are critical for dealing with climate change, environmental degradation, and displacement of locals.
Following Superstorm Sandy, the Rockaway Surf Club in New York played a vital role in distributing emergency supplies.

As we grow more adept at managing disruption and more skilled at resilience-building, Rodin reveals how we are able to create and take advantage of new economic and social opportunities that offer us the capacity to recover after catastrophes and grow strong in times of relative calm.
About the Author
---
Judith Rodin has been president of The Rockefeller Foundation since 2005. During her tenure she has recalibrated its focus to meet the challenges and disruptions of the twenty-first century, to support and shape innovations that strengthen resilience and build more inclusive economies. A research psychologist by training, Dr. Rodin was the first woman to serve as president of an Ivy League institution, the University of Pennsylvania. She was the provost and dean of the graduate school at Yale University. She serves on the boards of corporations and nonprofit institutions, has received nineteen honorary degrees, and is widely recognized as a global leader.
Praise For…
---
"A revealing examination of the anatomy of resilience…[Rodin] clearly shows what went right and what went wrong and what can be learned from past experiences. A convincing argument that becoming resilient is not only possible, but essential; food for thought for all and especially recommended for community leaders." —Kirkus Reviews, starred review

"Rodin…takes an insightful look at what is known as the resilience dividend, opportunities that come out of disasters and make for progress whether or not another occurs." —Booklist

"Her book's central argument offers resilience as a reason to adopt policies that allow for mass-scale preparation in the face of certain but unknowable future disasters. And though the book discusses resilience primarily in context of disasters such as devastating storms, Rodin's concept also sees dividends when applied to crises that stem from social stratification and unrest." —The Atlantic's CityLab

"Judith Rodin is a world-class entrepreneurial philanthropist. In The Resilience Dividend, she brings her life's work to bear on the subject, drawing on her deep and personal experiences from around the world. She uses every tool available (including the world's most advanced technologies) to understand the urban terrain and to deploy real-world solutions. All with the goal of saving and improving human lives." —Dr. Alex Karp, cofounder and CEO, Palantir

"Dr. Rodin's extraordinary leadership has helped introduce the world to the concept of resilience—the critical strategy for breaking the endless cycle of emergency response and relief for millions of people. From supporting our nation's recovery in the aftermath of Hurricane Sandy to helping megacities in Asia protect their most vulnerable citizens, Dr. Rodin has made resilience a global priority at home and abroad. Rigorously analytical and powerfully argued, Dr. Rodin's book challenges us to work smarter and more collaboratively to predict disasters before they strike and enable citizens to build stronger communities and thriving economies."—Dr. Rajiv Shah, administrator of USAID

"Ms. Rodin, currently president of the Rockefeller Foundation in New York, is especially suited to analyze these disruptive threats and to propose recommendations to upgrade resiliency to redress them… 'The Resilience Dividend' is a must-read for all those concerned about proactively building a tough and rebounding capacity, 'without waiting for disaster to push us into it." —Washington Times

"A fresh take on the many ways that organizations can recover and grow from unexpected setbacks… It's intriguing that the author of The Resilience Dividend is the head of a leading philanthropy. In the early 1990s, Peter Drucker made a strong argument that neither government nor the private sector could build the sense of community needed to meet the challenges of what he labeled the Knowledge Society. He thought the 'social sector' was our last, best hope for that. Judith Rodin's thoughtful, organic approach to enhancing the resilience of social groups suggests that Drucker's faith in NGOs might not have been misplaced."—Strategy + Business

"Rodin writes in an easy style. Drawing on a number of inspiring stories…she shows how resilience can be achieved through 'readiness, responsiveness and revitalization.' Upbeat and optimistic, this is not a book for cynics. Rodin marshals a strong case that the resilience dividend is 'real and achievable,' and if followed it can make a difference in the lives of millions of people the next time disaster strikes." —Maclean's

"Positive, pragmatic, and powerful, Judith Rodin's The Resilience Dividend is precisely the innovative thinking we need. By focusing on the ways individuals, businesses, and communities can build a foundation for resilience, Rodin gives us a blueprint for a future where we are stronger, more adaptable, and better equipped to meet the world's greatest challenges."— Arianna Huffington, president and editor-in-chief, The Huffington Post Media Group

"Embracing and driving change is key to adapting to our customers' needs and is a big part of what enables us to deliver great service. Every company must adapt and change in order to grow and succeed. The Resilience Dividend makes a powerful case for doing business differently in a dynamic and disruptive world." —Tony Hsieh, NY Times best-selling author of Delivering Happiness and CEO of Zappos.com, Inc.

"You have to read only one book: The Resilience Dividend by Judith Rodin…The book provides a tour de force of why and how resilience matters in different countries, industries and settings….Rodin's book will prove to be essential reading to leaders across sectors that are addressing the complexity of challenges facing humanity…The Resilience Dividend should be compulsory reading in the social investment community." —Alliance Magazine

"An inspiring book about preparing for major disruptions…Using an astonishing array of real-life situations, Rodin illustrates how individuals, organizations, businesses and communities can develop resilience after suffering catastrophic challenges."—The Missourian

"An inspiring and optimistic look at what humankind can do to respond to what appear insurmountable challenges"—Library Journal

"Rockefeller Foundation president Rodin writes in an expert and straightforward manner about the character trait of resilience, addressed here in socioeconomic terms and on nothing less than a global scale… While every author may hope to end a book with an indelible sentence, Rodin proves herself one of the select few who can pull this off." —Publishers Weekly

"Humanity has long celebrated those able to avoid, overcome or bounce back from adversity. And, in an increasingly interdependent and volatile world, resilience has never been more valuable—or seemed in shorter supply. Indeed, as we strive to make progress in our communities, organizations and families, we must seek to understand and build resilience. With her new book, The Resilience Dividend, Judith Rodin provides valuable insights into the growing importance and transformative potential of resilience. Highly recommended for all those seeking to create lasting positive change in the world."— Muhtar Kent, Chairman and Chief Executive Officer, The Coca-Cola Company

"The Resilience Dividend delivers powerful proof that building resilience helps individuals, communities and cities better recover from disasters and disruptions. Judith Rodin details connections between human, environmental and economic systems, and offers a strategy to proactively address the threats they face. This very important book will help tackle complex challenges today and well into the future."—Mark R. Tercek, President and CEO, The Nature Conservancy and author of Nature's Fortune: How Business and Nature Thrive by Investing in Nature



"This book makes a compelling case, drawing on stories from countries and communities across the world, that resilience is not just a defense mechanism but a positive gain or dividend, with added value in economic and social terms. The message is timely, given the increasingly disruptive force of climate change and the need to encourage communities to respond positively. It is also a highly readable account because it relies on actual human experience."—Mary Robinson, President Mary Robinson Foundation-Climate Justice, UN Special Envoy on Climate Change

"From climate change, to economic adjustment, to the breakdown in political governance,the scale and complexity of threats and challenges in today's interconnected world are immense. This timely and insightful book by Judith Rodin, president of The Rockefeller Foundation, reminds us that we urgently need to build greater resilience to enable individuals, businesses, and communities to prepare for both systemic disruptions and new opportunities in the world order."—Kofi A. Annan, former Secretary-General of the United Nations (1997–2006) and chairman of the Kofi Annan Foundation

"In a world where disruption is a fact of life and uncertainty is guaranteed, Judith Rodin draws on years of experience to offer an inspiring look at how we can prepare for the unexpected-and by doing so makes our communities stronger, more prosperous and more connected in the process."— President Bill Clinton

"Judith Rodin's groundbreaking work at the Rockefeller Foundation is helping cities adapt to a changing climate–and a changing world. In her new book, The Resilience Dividend, she lays out a powerful case for why governments and companies should prepare for-and not just react to–disruptions to business as usual."—Michael R. Bloomberg, Founder of Bloomberg LP & Bloomberg Philanthropies, and 108th Mayor of New York City

"She is a good story teller, and her stories from the United States and around the world form the heart of the book… Crisis planners will find useful material in 'The Resilience Dividend,' not just a "template for thinking" about crisis management but also, as Ms. Rodin puts it, the 'methods for putting that thinking into practice.' The rest of us will take heart that, in a world of disruption, there are ways to cope with crisis and even, perhaps, grow stronger as a result."—Wall Street Journal