You are here
Back to top
Taste of Home Instant Pot/Air Fryer/Slow Cooker: 150+ Recipes for your time-saving kitchen appliances (Paperback)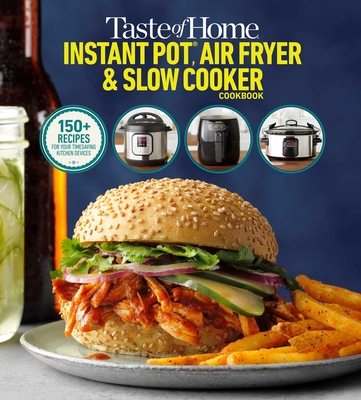 $19.99

Usually Ships in 1-5 Days
Description
---
Today's cooks are hungry for ways to set hot homemade meals on the table while cutting back on kitchen time…and they're using Instant Pots, air fryers and slow cookers to do just that! No matter which appliance you rely on most (if not all three), you'll always serve a winner with the Instant Pot, Air Fryer & Slow Cooker Cookbook
Divided into three easy-to-use sections, this handy cookbook offers the ideal dish no matter what the timeline. See the entrees area of the Instant Pot section when you need a savory dinner on the table fast; turn to the Air Fryer section when you're looking for a savory snack without heating up a deep fryer; and grab your slow cooker to serve up mouthwatering meals that simmer to perfection on their own. You'll find158 new ways to take advantage of your favorite devices with the brand-new Instant Pot, Air Fryer & Slow Cooker Cookbook.
CHAPTERS
Instant Pot
Instant Pot 101
Snacks
Side Dishes
Entrees
Desserts
Air Fryer
Air Fryer 101
Snacks
Side Dishes
Entrees
Desserts
Slow Cooker
Slow Cooker 101
Snacks & Appetizers
Side Dishes
Entrees
Desserts
RECIPES
Instant Pot
BBQ Baked Beans
Beef Short Ribs with Chutney
Cheesy Bacon Spaghetti Squash
Chipotle Porcupine Meatballs
Chocolate Apricot Dump Cake
Cranberry Hot Wings
Curried Pumpkin Risotto
Maple Creme Brulee
Memphis-Style Ribs
Very Vanilla Cheesecake
Air Fryer
Bacon-Peanut Butter Cornbread Muffins
Bloody Mary Deviled Eggs
Buffalo Bites with Blue Cheese Ranch Dip
Chicken Pesto Stuffed Peppers
Herb & Lemon Cauliflower
Mini Nutella Doughnut Holes
Mocha Pudding Cakes
Pecan Strawberry Rhubarb Cobbler
Sweet & Sour Pineapple Pork
Turkey & Mushroom Potpies
Slow Cooker
Buffalo Chicken Egg Rolls
Cheddar Bacon Beer Dip
Coconut Mango Bread Pudding with Rum Sauce
Creamy Ranchified Potatoes
Grampa's German-Style Pot Roast
Lip-Smacking Peach & Whiskey Wings
Mexican Pork & Hominy Stew
Pulled Pork Sandwiches
Rosemary Beef Roast over Cheesy Polenta
Smoky Hash Brown Casserole
About the Author
---
Taste of Home is the leading multi-platform producer of information on food, cooking, baking and entertaining, serving home cooks engaging media that capture the joy and comfort received from food made with love. Taste of Home magazine has a circulation of 1.5 million and publishes top-selling cookbooks and newsstand specials. Tasteofhome.com is a top destination for engaging audiences with kitchen-tested recipes, how-to techniques, cooking videos and more. Taste of Home has more than 6.1 million fans on Facebook, 1.9 million followers on Instagram, 2.6 million Pinterest followers and receives more than 28 million unique monthly visitors. For the best recipes from home cooks, visit tasteofhome.com and follow us on Facebook and Pinterest.