You are here
Back to top
The Least Among Us: A Novel (Hardcover)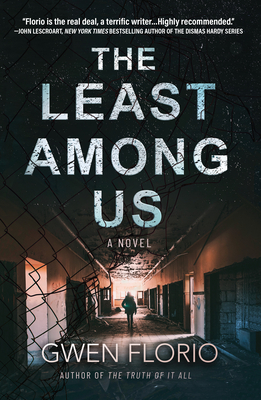 $29.99

Usually Ships in 1-5 Days
Description
---
Searing social commentary meets chilling suspense as public defender Julia Geary takes a case destined to rock her small town to the core, for fans of John Lescroart.

Public defender Julia Geary's star is rising, and now she's got her first murder case defending local denizen Ray Belmar in the death of a homeless man. But Julia's professional and personal challenges are mounting. First, she's assigned an intern whose arrogance is insufferable. Then, her widowed mother-in-law, whose home Julia and her son Calvin share, announces her plans to re-marry, meaning they'll have to find a new place to live. And to top things off, Julia's boss removes her from the case, saying that she's lost perspective, replacing her with an attorney who advises Ray to plead guilty.

Julia can't shake the suspicion that the murder, and the subsequent killing of a homeless woman, is linked to the death of a state legislator who had been crusading for political reform. With the help of Duck Creek's homeless community and her old friend, Sheriff's Deputy Wayne Peterson, she launches her investigation—but then the anonymous threats start pouring in.

Just as Julia begins to uncover the ways the system is shockingly stacked against those on the fringes of society, she makes an even more damning discovery. Someone close to her is harboring a dark secret they are desperate to protect—even if that means silencing Julia once and for all.

About the Author
---
Longtime journalist Gwen Florio moved to fiction in 2013 with her first novel, MONTANA, which won the Pinckley Prize for Debut Crime Fiction and a High Plains Book Award. Four more novels followed in the Lola Wicks crime series. She lives in Missoula, Montana.
Praise For…
---
Praise for The Least Among Us:
"Leave[s] a lasting impression . . . A denouement straight out of a horror flick."
—The New York TImes

"[A] solid sequel . . . Fans of John Lescroart's Dismas Hardy series will be pleased."
—Publishers Weekly

"A chilling look at [the] legal system."
—Kirkus Reviews

"Florio skillfully merges an emotional domestic story with an engrossing legal thriller."
—ShelfAwareness

"Exciting . . . Will have readers biting their nails."
—Seattle Book Review

"A solid murder thriller, with some good twists, and a solid story, [will] keep you engaged throughout the novel."
—Red Carpet Crash

Praise for The Truth of it All:
"Florio invests her characters with humanity, along with touches of humility."
—Kirkus Reviews

"A great storyline"
—Manhattan Book Review

"A story that leaps from the page . . . [and] strong, true-to-life characters."
—Big Sky Journal

"Gwen Florio is the real deal, a terrific writer with a unique and powerful style of her own.  The Truth of it All is a winner on every level—hot button issues, moral dilemmas, believable characters, everything that makes a legal thriller work. Highly recommended."
—John Lescroart, New York Times bestselling author of the Dismas Hardy series

"A page-turner from the opening sentence. Public Defender Julia Geary is a character to root for in a red-hot case that strikes a town at its very core. I couldn't read fast enough."
—Robert Dugoni, New York Times bestselling author of the Tracy Crosswhite series

"Gripping, timely, thoughtful . . . and a damn good read."
—Michael Kaufman, author of The Last Exit

Praise for Gwen Florio:
"A first-rate writer."
 —Anne Hillerman, New York Times bestselling author  
 
"Gorgeous, illuminating, resonant, thrilling."
 —Kate Moretti, New York Times bestselling author of The Vanishing Year, on Silent Hearts
 
"Florio achieves what few others can in the field of crime fiction."
—J. J. Hensley, award-winning author of Resolve and Measure Twice
 
"Gwen Florio weaves a compelling tapestry."
—Craig Johnson, author of the Walt Longmire mysteries