You are here
Back to top
The Simply Kosher Cookbook: 100+ Recipes for Quick Weeknight Meals and Easy Holiday Favorites (Paperback)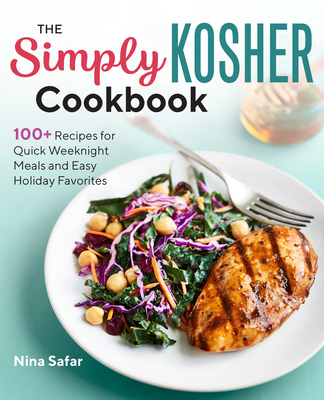 $16.99

Usually Ships in 1-5 Days
Description
---
From weeknight dinners to holiday feasts—scrumptious kosher recipes made simple.
If you keep kosher, you always want to serve up amazing meals, regardless of the occasion—and now, it's a lot easier.
The Simply Kosher Cookbook
is everything that kosher cookbooks should be, with more than 100 easy-to-follow recipes for mouthwatering dishes that take way less work.
This standout among kosher cookbooks has everything you need to craft weeknight meals and holiday spreads the whole family will love. From traditional cuisine to contemporary fare—and innovative mixes of the two—this book features unique recipes different from other kosher cookbooks. Plus, it's organized to save you time, with recipes divided into useful sections: 30-minute meals, 5-ingredient dishes, one-pot dinners, and more.
The Simply Kosher Cookbook
includes:
100+ tasty recipes—Check out delectable recipes like Matzo Pancakes, Shakshuka with Sausage, and Sweet Potato Pie.
Helpful holiday menus—Pick up pointers for adapting your favorite foods for the holidays.
Slow-cooker and Instant Pot® options—Enjoy delicious kosher foods with a side of modern convenience.
The Simply Kosher Cookbook
has you covered with dozens of savory recipes that help simplify your life without sacrificing any of the flavor.
About the Author
---
NINA SAFAR is a food blogger and founder of kosherinthekitch.com. She was raised in a big Brooklyn family full of love of food and tradition. Now, she channels that passion into cooking and sharing food that blends custom and culture. She loves whipping up simple and convenient dishes that don't compromise on flavor.
Praise For…
---
"I love this book! Not only has it taught me so much about kosher lifestyle, I also appreciate that, with the hundreds of recipes, you get a combination of traditional cuisine as well as contemporary and innovative takes on other traditional dishes. With such a variety of tasty recipes, I truly believe that this is a book everyone could enjoy, not just those looking to cook kosher."—Lawrence Duran, celebrity chef

"I'm a busy mom of 6, but, despite running around, it's important to me to take time to cook delicious kosher meals that my family will enjoy. That's why I'm thrilled to have found The Simply Kosher Cookbook. This book is a go-to cookbook for busy cooks who want to optimize their time without sacrificing quality."—Jamie Geller, founder of Jamiegeller.com and bestselling author of 6 cookbooks, including Joy of Kosher and Quick & Kosher

"With The Simply Kosher Cookbook I find myself constantly in the kitchen not wanting to leave. Nina Safar has a new classic and what will be an award-winning book with so many delicious and easy-to-follow recipes. Her talents shine through on each and every page, and you can really see the passion she has for creating recipes for the entire family to enjoy. This cookbook is truly AMAZING!"—Gabriel Boxer, founder of Kosher Guru