You are here
Back to top
Uniquely Kosher (Hardcover)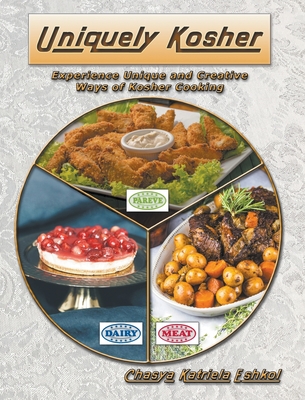 $56.10

Usually Ships in 1-5 Days
(This book cannot be returned.)
Description
---
New to kosher? Learn creative ways to prepare your old favorite foods
Always kept kosher? Enjoy new, previously unimaginable dishes
"Fabulous Food Forgeries" demonstrate how to turn virtually any "treifah" non-kosher] recipe into a kosher delicacy, using the Unique "Tri-Optional Ingredient System", that allows one to make a recipe in one of three different ways- Dairy, Parve or Meat.
This book offers easy explanations on becoming and keeping kosher, and its informative tools are invaluable to even the most seasoned kosher cooks.
A comprehensive source in kosher cooking, you will find yourself referring to it time and time again. The book includes extensive lists of food substitutions, entertaining kitchen projects, and more. It truly has something for everyone.
All recipes have been tested, and many were inspired by commercial products and restaurant foods from decades ago. Some of these are no longer available. That makes this recipe collection even more special.
Filled with humorous illustrations, this book makes a practical and wonderful gift.
Read and discover what makes this book so "Uniquely Kosher"