You are here
Back to top
Sous Vide Cookbook: This Cookbook for Beginners Will Teach You How to Use the Sous Vide Cooking Technique, with Many New Recipes, to Lose (Hardcover)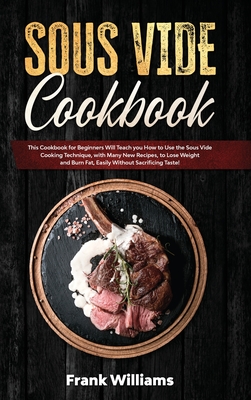 $35.97
Email or call for price
Description
---
Do you want to impress your friends/relatives or colleagues with a cooking method used by top chefs?
Before I tell you everything you need to know about the Sous Vide method, you need to understand one thing: even though Sous Vide cooking sounds extravagant, it is actually very simple and requires simple and affordable equipment. In fact, you probably already have most of it in your kitchen. If you don't, once you buy it you will be able to use it for other cooking methods as well which makes it a perfect investment. I love Sous Vide because, in essence, it is the experience of the world's most well-known chefs brought to your kitchen, your fastest way to professionally looking dishes.
So, what would be the essential steps to your Sous Vide cooking experience? They are quite simple and straightforward, actually.
Get the precision cooker ready and attach it to your water basin in order to preheat the water before you start the cooking process. All precision cookers give you the opportunity to set the desired temperature and cooking time.
Set the temperature indicated in the recipe and the water bath will start heating.
In the meantime, prepare the ingredients, chop or slice them if it is required in the recipe, and carefully place them in plastic bags.
When the cooking time suggested by the recipe is up, all you need to do is to give your dish a finishing touch.
These are the main steps. As you can see, Sous Vide cooking is perfect for the people with a tight schedule - all you need to do is to place the ingredients into the bags, wait the required amount of time and then serve your meal.
In this book, you will learn more about:
- Breakfast
- Sides
- Seafood
- Poultry
- Meat
- Vegetables
- Desserts
- Cocktails and Infusions
- Vegan
- Basics, Sauces, and Condiments
- ... AND MORE
This is a great book also for those who are beginners to cook and for those who have little time to devote to it, because there are many simple and quick recipes in the book