You are here
Back to top
Learn Spanish For Beginners AND Spanish Short Stories 2021: (2 Books IN 1) (Paperback)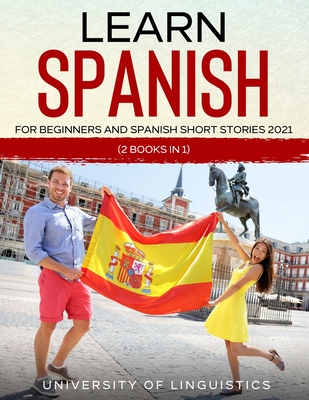 Description
---
★★★Buy the paperback version of this book, and get the kindle version FREE ★★★
Hola
Within this book, you will find 2 Books IN 1..
Spanish: Learn Spanish for Beginners in a Fun and Easy Way: Including Pronunciation, Spanish Grammar, Reading, and Writing, Plus Short Stories, as well as Spanish Short Stories for Beginners: 21 Entertaining Short Stories to Learn Spanish and Develop Your Vocabulary the Fun Way
Between both books, you will have everything that you need to begin learning Spanish at an incredible rate.
Even if you are brand new to Spanish, these lessons and short stories are sure to captivate you and make it fun and easy for you to learn this awesome new language.
Below is a bit more about what's contained inside the two books that you will be receiving:
★
Spanish For Beginners:
In this book, you will find all of the fundamentals you need in order to get your Spanish skills off the ground.
In here, you will find everything you need to get started learning Spanish. If you haven't found the right place to get started, well then look no further.
In this volume, you will find the core fundamentals needed to attain a conversational level of Spanish
. In fact, achieving a conversational level of Spanish isn't as hard as you might have thought... all you need are the right keys.
To achieve this, you will learn about:
★Key insights into learning languages ★
A full Spanish pronunciation guide
★The basic parts of speech (nouns, adjectives, pronouns and adverbs) ★
Verb conjugations in the present tense
★The various ways in which verbs can be conjugated ★
Core vocabulary which can be used in multiple situations
★Question formation ★
The mechanics of sentence formation

With all of this knowledge, you can then put it to practice with the short stories provided at the end of the book. In these short stories, you will find a great way in which the language you have learned is put into practice in a nice and easy way. So, you won't have to struggle to figure out how, or where to put this newfound language into play. You will have the perfect means to see the language in action just as it is meant to be.
★
Spanish Short Stories for Beginners
In this book, you will find the following: ★
Clear and concise language as would be used by native speakers of Spanish
★Relevant topics that are not only entertaining but also informative ★
Real vocabulary that you will be able to put to use right away
★Parts of speech as they are actually used in reading, writing, and conversation ★
A short summary in both English and Spanish to help fixate the main idea and specific details of what you have learned in your mind
★Questions about the story to help guide you in your reading comprehension skills ★
The answers to the questions so that you won't have to guess the responses to the questions
These features make this book unique in a sea of options for learning Spanish, or any other language for that matter.
The most important thing is that you will get an easily digestible format that will enable you to pick up Spanish right from the start.
If you have already embarked on learning Spanish in the past, then you will have the opportunity to hone your skills. With these Spanish short stories, you can perfect what you have already learned and then move on to new topics.
This will surely expand your current skills.
Come on in and find out more about how you can improve your overall Spanish.